Vij's Coconut Prawn Curry

Serves 6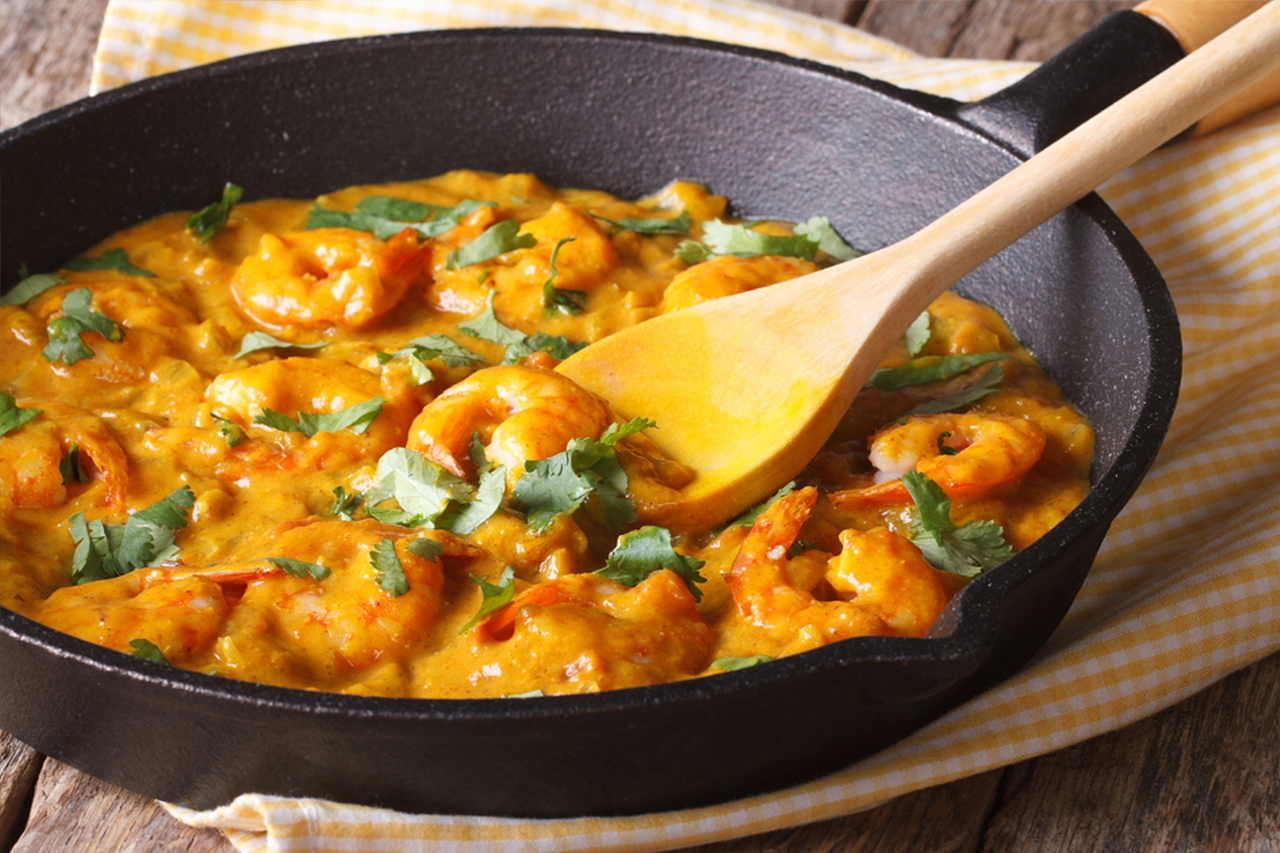 Ingredients
½ Cup Coconut Oil

1 Tbsp Cumin Seeds

3 Tbsp Chopped Garlic,
9 medium cloves

2 Cups Chopped Tomatoes
5 to 6 medium

4 Bunches Green Onions,
Green & White Parts Chopped

1 Cup Water

½ Tbsp Vij's Himalayan Pink Salt

1 tsp Vij's Black Pepper Powder

½ tsp Vij's Deggi Mirch Masala

2 Cups Unsweetened Desiccated
Shredded Coconut

1 Tbsp Dried Green Fenugreek Leaves
36 to 42 Prawns, Peeled & Deveined
Email me this recipe
Share with friends
How to Cook
Heat the coconut oil in a medium saucepan on medium-high heat for 1 minute. Add the cumin seeds and allow them to sizzle for 15 seconds. Stir in the green onions and sauté for 4 to 6 minutes, or until gold on the edges.

Add the garlic and sauté for 3 minutes, or until golden. Stir in the tomatoes, salt, Vij's Black Pepper Powder and Vij's Deggi Mirch Masala, reduce the heat to medium and sauté the masala for 5 minutes. Stir in the coconut and cook for 5 minutes, or until the coconut has softened. Pour in the water and add the fenugreek leaves, then stir and bring the mixture to a gentle boil.

Stir the prawns into the gently boiling masala, cover and cook for 3 to 5 minutes, or until they turn pink. Overcooked prawns become chewy and lose their subtle flavour, so check the prawns after 3 minutes. If they are not cooked, cover and check them again every minute. As soon as they turn pink, remove the pot from the heat.

To Serve pour the prawn curry into a large bowl to serve family style, or divide the curry (and prawns) evenly among individual bowl. Serve with love!