Vij's Savoury Raw Jackfruit

Serves 6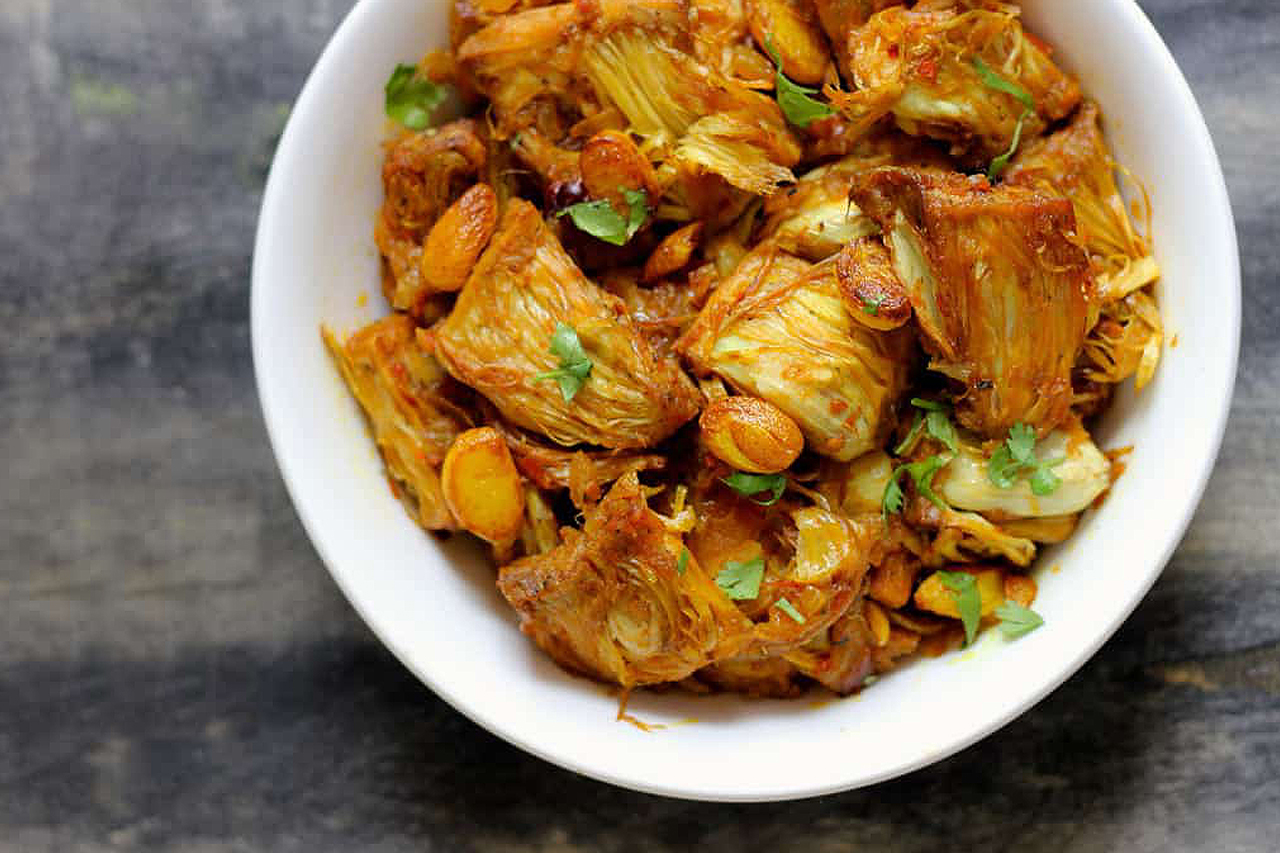 Ingredients
3 Cans Young Green Jackfruit

1 Cup Water

6 Black Cardamom Pods

½ Cup + 6 Cups Canola Oil

½ Tbsp Cumin Seeds

1 Cup Finely Chopped Onion

1 Tbsp Finely Chopped Garlic

2 Cups Crushed Tomatoes

6-8 Whole Large Dried Red Chillies

1 tsp Ground Fenugreek Leaves

1 tsp Vij's Turmeric Powder

1 tsp Vij's Cumin Powder

1 Tbsp Vij's Coriander Powder

1 Tbsp Vij's Himalayan Pink Salt

½ Tbsp Ground Black Mustard Seeds
Email me this recipe
Share with friends
How to Cook
Line 2 baking trays with clean, dry tea towels. Drain canned jackfruit and lay out pieces in a single layer on the tea towels to absorb any excess water. Set aside for about 30 minutes.

Break open cardamom pods and set aside the seeds. Heat oil in a pan on medium-high heat for about 1 minute. Add cumin seeds and cook for about 30 seconds. Add onions and sauté for 8-10 minutes. Add garlic and dried chillies, including seeds, ustard seeds, fenugreek seeds, turmeric, red chilli powder, cumin powder, coriander powder and pink salt. Stir well.

Cook this masala, stirring regularly, for about 10 minutes or until the oil separates from the tomatoes and the masala glistens. Stir in water, turn off the heat and set aside.

Heat oil in a large heavy pan on high heat for 5 minutes. Once the oil is hot enough, place jackfruit in the pan and fry for 5 minutes. Cool jackfruit for 15 minutes.

Carefully stir jackfruit into the masala so the pieces don't break, then turn the heat on medium. Once the masala starts to boil, reduce the heat to medium-low, cover and simmer for 5 minutes. Remove lid after 5 minutes so the jackfruit does not overcook.

To Serve spoon piping hot jackfruit curry onto six plates. Serve with love!